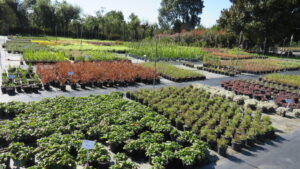 We have updated our website, the original was built over a decade ago and needed some attention.
Over the same period the nursery has undergone huge transformations with the construction of new growing houses and propagation units, our plant range has exploded to over double what we started with back in 2011. We are now reputedly the largest independent importer of pottery into the country with over 300 ton over the last 24 months.  Facebook is the best way to follow us regarding new shipments and any clearance deals we might be doing, due to the fragile nature of pottery we cannot courier theses items, its only available directly from the nursery.
The new website version offers a whole raft of new plants, in particular our new perennial and colour lines, it talks about products that are only available directly from the nursery versus those that we can courier.   We have also added a search function so if you know exactly what you are looking for this is a quick way to look, our plants are listed by botanical names not common names.
Our website is laid out predominantly by plant use , the idea being that it makes it a bit quicker to list all the products that have a similar function eg Hedging or Covers, but as mentioned above there is also a variety specific search function. Not all of our plants can be shipped due to height or simply pots too big for our courier carton, if we say available x nursery" this indicate its not a courier item.
AN IMPORTANT NOTE;  We are a full production nursery and supply to the general public as well as other retailers and wholesalers, while we endeavor to keep the website current, plants and availability can change at a moments notice. As for our veg range, we produce as the seasons dictate.
It always pays to contact us first with any queries relating to availability.  paul@growersdirect.co.nz or 075525423